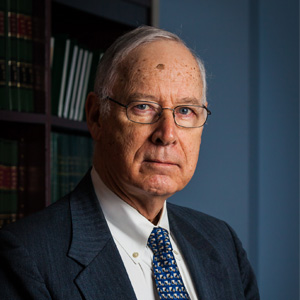 Joseph Ryan joined Lyne, Woodworth & Evarts LLP in 1967 and became a partner in the firm in 1970. Mr. Ryan concentrates his practice in corporate and commercial litigation.
A significant portion of Mr. Ryan's practice focuses on meeting the needs of life and health insurers, including policy litigation, Division of Insurance matters, and general business issues related to insurance companies. Mr. Ryan is counsel to the Massachusetts Life and Health Insurance Guaranty Association. Mr. Ryan also represents multi-national corporations in a wide variety of employment issues including defense of wrongful termination charges and enforcement of non-compete clauses. Mr. Ryan's cases have included the resolution of numerous family owned business disputes. Mr. Ryan has applied his interest and expertise in computers to handle a myriad of complex computer and technology related disputes, including acting as arbitrator in dispute resolutions.
Mr. Ryan is a graduate of the College of the Holy Cross where he received his A.B. degree in English in 1961. He was commissioned at graduation and served as an officer in the United States Navy from 1961 to 1963. He graduated from Boston College Law School in 1966 where he was a member of the Order of the Coif and Editor-in Chief of the Boston College Law Review. Upon graduating from law school, Mr. Ryan served as Law Clerk to Justice Paul G. Kirk of the Massachusetts Supreme Judicial Court until joining the firm.
Mr. Ryan is a member of the Massachusetts Bar Association and the Boston Bar Association and the Defense Research Institute.
Mr. Ryan is a member of the Lyne, Woodworth & Evarts LLP Litigation Law Group.
Education
– College of the Holy Cross
– Boston College Law School
Practice Areas
– Litigation